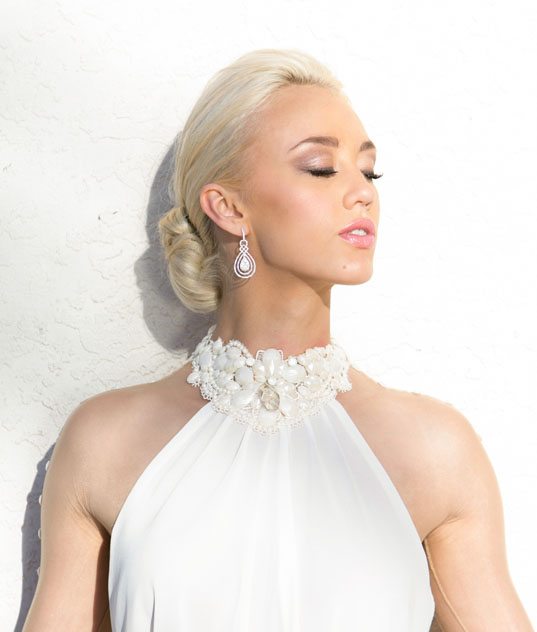 The California Wedding Experience at La Jolla
La Jolla, CA — What makes a bride the most anxious about her wedding day? The weather? The catering? The location? Her hair? Her dress? Keeping all the relatives entertained? Depending on others to make her dreams a reality? Making it all memorable? With the launch of the ULTIMATE WEDDING COLLECTION'S "California Experience" at the iconic La Valencia Hotel in La Jolla, there is now an antidote to those worries.
For a packaged cost of $1 million, the historic, 112-room oceanfront Southern California resort literally becomes the bridal party's seaside Mediterranean style villa for the weekend. La Valencia Resort has entertained everyone from Mary Pickford to Madonna, and now yours for up to 200 guests. The hotel's chef, housekeepers, waiters, concierge, rooms, pool, lounges and restaurants are there for the sole purpose of servicing the wedding, with all the attractions of the area – from shopping to art galleries; from yachting to scuba diving.
Produced by Alchemy Fine Events and La Valencia Hotel, the package includes strategic partnerships with the likes of Net Jets and Uber for bridal party and guest transportation as well as Prestige Motor Sports & Yachts.
La V's lavish wedding package is the first in a new collection of exclusive destination weddings at iconic hotels in places like: Monaco, Ibiza, St. Tropez, Tuscany and St. Barths.
Included in the package is a Wedding Design Team that is deployed long before the big day, offering
the services of Southern California's premiere wedding vendors, including: couture bridal gown designers, Hollywood hair and makeup artists, musicians, florists, photographers, videographers and event planners – all with the goal of translating your vision into a customized, one-of-a-kind event.
"We put this package together for the couple who wants effortless luxury," explains Rita Moore,
La Valencia's Director of Sales & Marketing. "Our carefully selected design team leverages the art of listening and understanding the bride and groom wishes to the actual execution of a personalized brand for the wedding. From the big picture to the tiniest details –luxury invitations, guest welcome notes, picnic baskets, excursion maps, bespoke furniture, custom place settings; even parting gifts at the farewell brunch, everything will be designed to express your wedding vision. All you'll need to do is arrive and enjoy."
The $1 Million Effortless Luxury Wedding Package includes the following services provided to the full bridal party & guests:
Villa for Bride & Groom
Hotel accommodations for up to 125 guests
Transportation coordination into and around San Diego
Onsite concierge services
Gift cards to neighboring restaurants and shops
Watersports – surfing, kayaking, paddle boarding, and golfing
Spa services and yoga classes
Rehearsal dinner celebration on a private yacht in San Diego Bay followed by a welcome
reception on the lawn of Ellen Scripps Browning Park overlooking La Jolla Cove
5-Star chefs preparing custom menus for each of your gatherings
Top wedding vendors including design, planning, photography, videography, beauty, fashion
styling and entertainment.
Custom designed furniture and tablescape décor
Bon Voyage Brunch
La V is a wedding destination unto itself with its cathedral-like lobby lounge complete with hand painted ceiling murals, wrought iron chandeliers, colorful mosaics and a picture window with full ocean views. She also delights the eye with a Romeo & Juliet mezzanine balcony, a garden terrace suspended over the ocean, a centerpiece signature pool, street facing European bistro and amuses the palate with her Greatroom-stylized fine dining restaurant.
"La Valencia epitomizes the ultimate bridal backdrop," explains Vanessa Van Wieren, founder of Alchemy Fine Events. "This luxury package sets the standard for a personalized, turn-key event. It is designed to appeal to the international taste makers whether they live an hour or a world away."
For booking questions, please contact: Vanessa Van Wieren, Founder of Ultimate Wedding Collection

info@ultimateweddingcollection.com • 760-688-6011